HEALTHIER AND TASTIER: TRITANIA COOKWARE IS THE PERFECT CHOICE FOR EVERYONE WHO CARES ABOUT THEIR OWN HEALTH AND LOVES GOOD FOOD!
Good nutrition doesn't stop at food
TRITANIA cooking units are the perfect complement to healthy and tasty eating.
Why? Because their cooking surface is made of pure titanium, a highly corrosion resistant, non-toxic and biocompatible metal. This is proven by its use in the medical field for prosthesis and dental implants.
Titanium: the ultimate in safety and taste
Thanks to titanium, TRITANIA pots and pans are able to resist both to corrosion due to acid and alkaline foods and salt water and to abrasion due to kitchen utensils.
They don't release harmful substances during cooking, avoiding risk of allergies and health damage.
Furthermore, they do not alter the flavor of food, to the benefit of taste.
Tritania: how they are made
Tritania cooking units are made of a completely new material, which we are the first to introduce into the European market
the cooking surface is made of pure titanium: highly resistant to corrosion and abrasion, it is the maximum safety factor for health!!

the intermediate layer is made of pure aluminum: an excellent heat conductor, it allows a perfect heating distribution and uniform cooking

The external sheet is made of stainless steel AISI 430: shiny and long lasting , easy to clean and magnetic, it is induction compatible
Tritania: the only cookware with a pure titanium cooking surface
Only TRITANIA cooking units have a pure titanium cooking surface. And only pure titanium is completely inert, biocompatible and non-toxic. The non-stick coatings of the pots, which are defined themselves as 'titanium', are chemical compounds, containing titanium in addition to other not specified substances.
Mrs. Serena Lanza, Biologist
Risks to our health in the kitchen
The adverse effects for our health due to the accumulation in the body of heavy metals – chrome, nickel, cadmium, copper, mercury, lead – have now been established. The number of people who experience allergic reactions, such as nickel, increases year by year.
We take heavy metals everyday by contact with common use objects –kitchen utensils, batteries, paints, cosmetics – or ingesting food contaminated, e.g. by low quality cooking tools.
The scientific community also warns against pots and pans with non-stick coating based on PTFE and PFAS: they are considered risk-free only if they are of good quality and used correctly (following the manufacturer instructions).
Here is why Tritania is born
The pure titanium cooking surface of TRITANIA pots and pans avoid risks for our health due to the contamination of food by toxic or allergenic substances .
Samples of Tritania Cookware were tested by accredited certification authorities with positive results .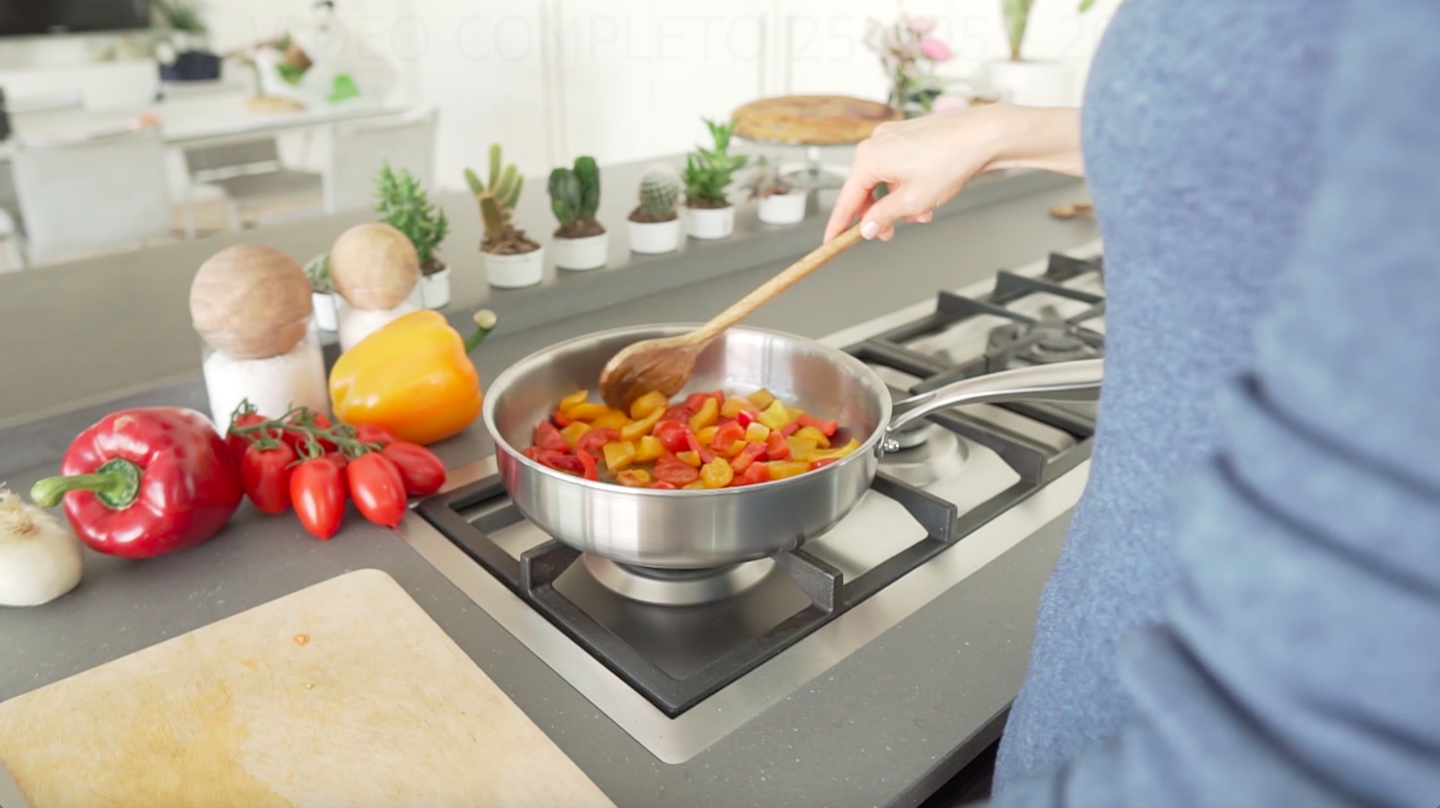 THANKS TO TRITANIA, EVERYBODY CAN FEEL LIKE A REAL CHEF
Titanium: the pleasure of tasting the natural flavor of food
Taste also benefits from titanium corrosion resistance: this was confirmed by professional chefs who are using TRITANIA pots and pans with great satisfaction.
Using TRITANIA cookware, you will discover that every food has its own well-defined flavor and you will not have to add a lot of condiments or spices to enhance the taste of your dishes!
Tritania: the advantages of cooking over a moderate heat
With TRITANIA you can follow different cooking methods and the results will always be guaranteed.
However, the TRITANIA cooking units are more reactive to heat than steel pans with triple bottom: so we suggest to cook over a moderate heat, to further preserve the taste of food… and save energy too!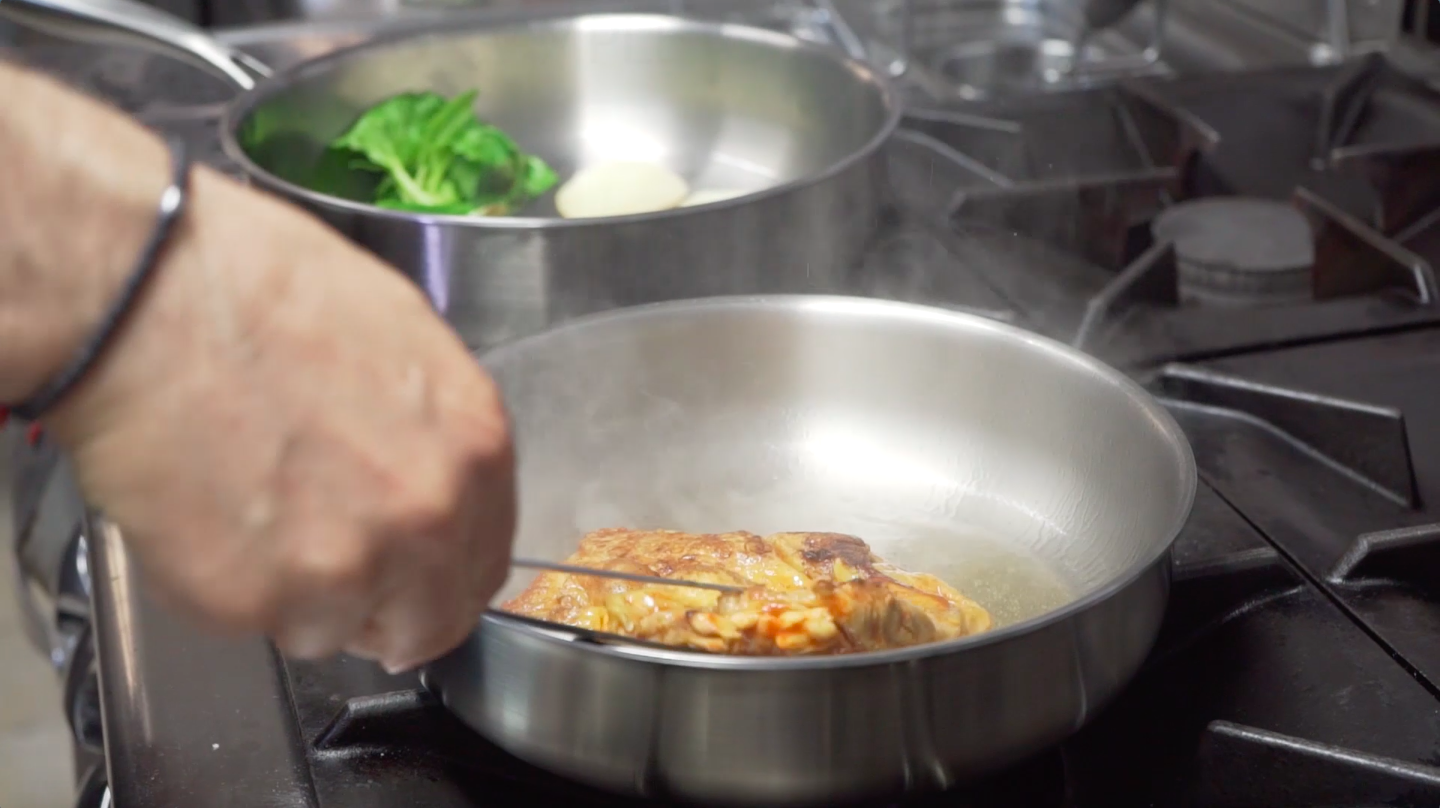 NO ADDED NON-STICK COATING: HEALTHIER, TASTIER AND LONGER LIFE
Titanium: perfect for low fat cooking
The titanium cooking surface is very slippery and guarantees a slight natural non stick effect.
It is easy then to cook, cutting the use of fats.
Titanium: safe over time
The non-stick quality of TRITANIA pots and pans improves with prolonged use, contrary to what happens with the added non-stick coatings. These coatings gradually deteriorate with use, due to heat and abrasion caused by kitchen utensils and cleaning.
If you want to grill a steak, with a TRITANIA pan you can do so without concern for the high temperature causing deterioration and decomposition of the cooking surface!